FROM A.HUNG - C.HIEN// PRE-WEDDING DALAT + WEDDING CEREMONY AUSTRALIA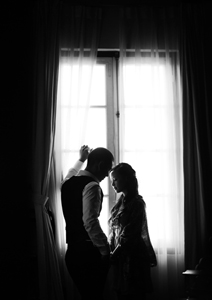 My fiancé and I are from Australia and had intentions on going back to Vietnam to get our pre-wedding photos taken. We'd been past several wedding photography stores but nothing suited our fancy.
It was only by chance that we came upon one of Nukia's albums during a random visit to the Jolipoli store in HCMC. Impressed by the wedding photography, we arranged a meeting with the photographer and her manager Minh. Both were lovely and professional during our meeting, putting our requests and expectations into consideration. Thereafter, exchange via email were replied to promptly and Minh's fluent English made it all the more easier for us 'Viet kieu'.
Immediate plans were made to take photos in Dalat on the following night, as we'd only a few days left before returning to Australia, travelling via 'sleeping bus' (quite an experience in itself!). Nukia quickly arranged accommodation for us so we did not have to organise a thing while we were there. We took photos at several destinations, including at a beautiful character French bungalow; a place that we thoroughly enjoyed. Initially quite rigid, we loosened up quickly as Nukia's photographic expertise, the hair and makeup artist Nhu and assistant photographer made our experience fun and easygoing, also doubling up as tour guides and introducing us to the delicious Dalat cuisine.
We were presented with an unedited CD the following day which we found was very considerate, a lovely memento of our experience in Dalat.
I would recommend Nukia to overseas couples visiting Vietnam in a heartbeat. The whole crew are professional and fun, making for a very enjoyable experience. We loved her photos so much that we've asked her to come down to Australia and be our photographer for our wedding day in February 2013! Finally, we'd like to send our congratulations and warmest wishes to Nukia and her team for the recent opening of her studio